Colorado Commercial Lease Agreement Template
A Colorado commercial lease agreement is designed so that a property owner may lease out his or her property to a retail, office, or industrial business in exchange for monthly rent. The landlord should keep in mind that payments may be irregular or not in full because it may take weeks to even months for a new business to generate sufficient income. A commercial lease agreement can be made up in three different ways; Gross, Modified Gross, and Triple Net (NNN), as detailed below.
Gross – The best scenario for the tenant, as the only required payment for the property is a monthly rent. Everything else is taken care of by the landlord, including utility bills (water, electricity, parking, heat/cold, etc.), maintenance bills, taxes, and even repair bills (as long as they are justified).
Modified Gross – This option for a commercial lease agreement is in-between Gross and Triple Net (NNN), as the landlord and tenant will split up the several different costs of the property.
Triple Net (NNN) – While the Gross option was the best situation for the tenant, the Triple Net option is preferred for the landlord as the tenant is obligated to maintain the property, pay monthly rent, and pay any associated utility bills.
Versions (2)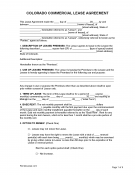 Commercial Lease – Version 1
Download: Adobe PDF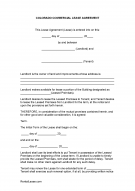 Commercial Lease – Version 2
Download: Adobe PDF